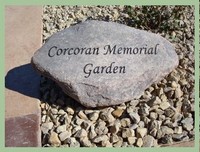 Engraved Memorial Boulder
The Memorial Garden Park is overseen by the Corcoran Parks and Trail Commission. The area located on the east side of City Hall is a park dedicated to loved ones who have passed away. The Memorial Garden Park offers families a unique opportunity to preserve a loved one's memory in a special place that children and grandchildren can visit. Please consider this park in remembering your loved ones. Several cash donations have been received in memory of Ron Johnson, Pat Puhle and Mike Milbrandt.

The park area hosts a gazebo with surrounding gardens, and a walking trail around the beautiful wetland area. This area is a nature-filled hideaway, with wetlands, mature trees, and wildlife. A perfect photo shoot location for those who rent the Community Center for luncheons, weddings, anniversaries, or graduation parties. Future phasing will be the continuation of a walking trail through the woods, which will someday connect to the downtown business district.


This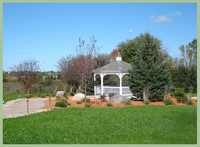 Gazebo Area

area will allow the Corcoran community the opportunity to donate money in memory of a family member or friend by purchasing a bench, boulder rock or stepping stone engraved with a small memory of your loved one. The community and businesses may donate funds as well to be a part of this vision.

Memorial items can be purchased to be placed in the garden area (prices subject to change).
4x8 Engaved Brick: 3 lines of text 15 characters per line $50.00 plus tax

12x12 Engraved Brick:

9 lines of text 24 characters per line $100.00 plus tax

48" Maintenance Free Bench: $516.00 plus tax

Concrete Bench: 3 lines of text 22 characters $225.00 plus tax

Granite Bench Price varies with bench
For details on how to be a part of this exciting memorial project or if you have a special occasion coming up and want additional information to rent the Community Room and use of the Memorial Garden Park, please call City Hall at 763-420-2288.