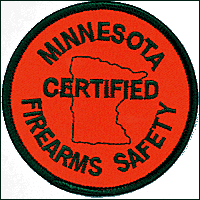 2018 Firearms Safety Training
No phone registrations will be accepted

The 2018 Firearms Safety classes will be held on Sunday, March 18 & 25, April 8, 15, & 22, from 6:00 pm to 9:00 pm. The final outdoor practical exam and range will be Saturday, April 28, from 8:00 am to 3:00 pm. All classes will be held at the Corcoran Community Room, 8200 County Road 116, Corcoran, MN.
Students must be 12 years of age or older by November 1st, 2018. Students must complete all classroom training, pass both the written test and the outdoor practical test with range, to receive their firearms safety certificate.
Registration Fee is $15.00. Please remit payment to Corcoran Police Department - FAS 8200 County Road 116, Corcoran, MN 55340 before March 14, 2018.
For online registration, click here.
For questions, please contact Steve Warren at 763-400-7012, swarren@ci.corcoran.mn.us or Paula Steelman at 763-400-7002, psteelman@ci.corcoran.mn.us